Henry & Biggs:
Adventure Blog of a Literary Agent and His Beagle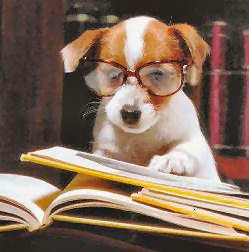 Henry & Biggs is an on-line novel in progress about a New York literary agent and his pet Beagle. Yes, "in progress." That means I am writing about our two heroes as you are reading about them. Look for a new installment every week (well… life permitting). If you are waiting between chapters, you will find other diversions-from-reality posted on the Owen Thomas Fiction website, including The Lion Trees, Signs of Passing, Novels, Novellas, Short Stories, a short fiction feature called Tiny Points of Life, my photoblog, 1000 Words per Frame, and a feature called The Menagerie, in which the four-legged characters of Henry & Biggs host a variety of features intended less for serious reading than indulging in satirical nonsense.
To be sure, Henry & Biggs is decidedly light-hearted fare. But it is not without its pathos, drama, suspense, terror, raucous couch-sex, bare-knuckle politics, and delicious Basted Lamb Crunchies. Also, some vampires.
So light-hearted, yes, but not for children or the faint of heart. For, as you will see, Henry and Biggs are lured from their modest but comfortable lives in the middle of the literary food chain, down into ever-deepening mysteries the likes of which the publishing world has never seen; mysteries that threaten not only the lives of this literary agent and his infinitely loyal canine companion, but that promise to upend American democracy and, indeed, challenge the fundamental tenants of modern civilization on planet Earth.
So, yes, light-hearted in the sense of being devastatingly important and deeply disturbing. Read, read. You'll see.